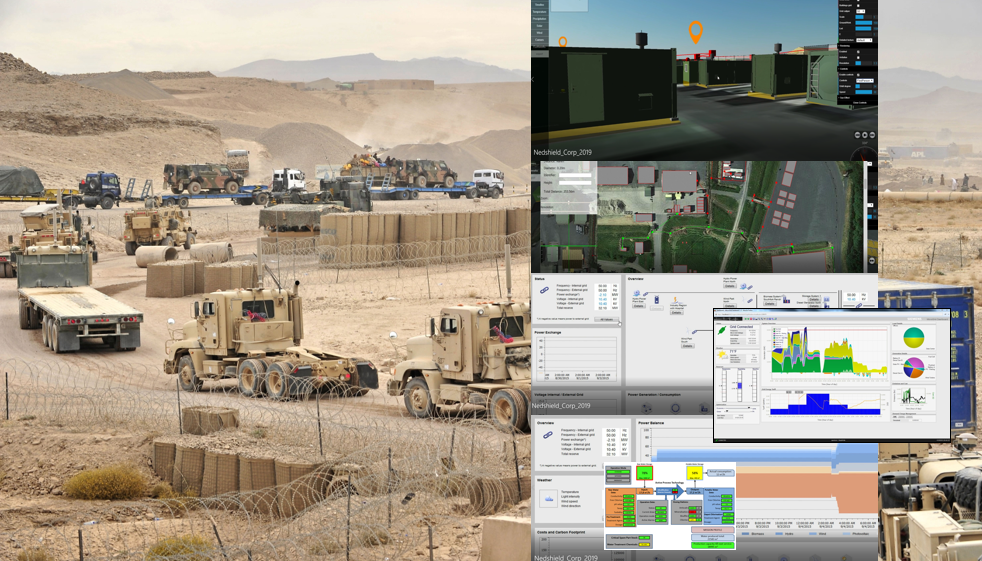 It's not just a matter of cost.
In the past fuel and water have been the major contributors to operational logistical burdens (For Operation Iraqi Freedom (OIF/2003), 51.1% of tonnage for water and 38.6% for bulk fuel). It is also known that the resupply operations were identified as a significant contributor to casualties: on average 1 casualty per 50 supply convoys…
Nedshield's base Resource Management System enables the consolidation, tracking and coordination of the camps key functions of energy distribution, water supply and waste disposal.
A core component of the RMS, is the Energy Management unit. With current case studies showing that energy consumption savings reach 35% or more, the RMS-Energy can have an immediate impact on reducing both operational costs and logistical burden.
The combination of the RMS and Virtual Base design software components also has the benefit that various design and deployment options can be evaluated, "over-design" eliminated, and "under-design" avoided.
Specification requirements for supporting future procurement can also be more accurately and more easily determined.
Similarly, the other components, water, waste and recycling technologies and improved distribution methods can also be tracked and optimized to provide additional benefit.
Please contact us for more information.
The Nedshield camp Resource Management System (formerly the Deployable Facilities Control Center "DFCC" was developed to provide the base with a central point from which all key camp resources (Energy and Water) can be managed. The RMS can be also extended to include Waste, Logistics and even internal camp security.
The RMS comprises a single user interface with a number of integrated dashboards. The communications network can be either hardened or wireless. The RMS can also be linked with the VB design software to provide usage data for camp design optimisation.
Please contact us for more information.

---